Tech N.S
Apr 17
The Regression of Progression
Whenever a new type of technology enters the classroom there seems to be an uproar from all parties involved. A general concern is the belief that our dependence on gadgets will be our own demise when the "real" Y2K happens. The great blackout will leave us all in the dark ages unable to use the necessary skills of survival in a hunter/gatherer society. We will shout collectively, "OH! Technology, why have you forsaken us!" as we run from hungry predators.  
This belief stems from progress's greatest opponent: fear.  Fear gets in the way of progress because it creates disbelief. The unknown is our greatest fear and we fear what is unfamiliar.  The more we neglect this fear, the greater the problem becomes. 
I was unable to attend the T.E.L.P meeting last night,  so this is my response to why I "believe" in mobile technology in the classroom:
1. Collaboration:

The days of the teacher standing in front of a group of students is over. Students can use technology in the classroom to collaborate with each other and with the teacher. The one-way street of instruction is over. With the use of the "cloud" and other web-based storage sites, students can do their work on the bus, in school, at home, or even on their way to soccer practice.  

They can access and share their ideas outside of the classroom. I have students post notes and comments as late as 11:00pm on a Saturday night. Students will take advantage of these opportunities if they are provided. While posting their comments to Twitter, Youtube, and other social media sites they are collaborating with people all over the world, not just in Liverpool, N.S. The reality of current day globalization has never been more in effect. With today's technology in the classroom, we can collaborate with valuable resources all over the world. Look at Google hangouts, Skype, Vine, Ustream, Facetime and Twitch Tv.


With digital media growing more popular we are also reducing the amount of paper waste in schools. With electronic submission students can no longer say, "The dog ate my homework." Also, no more "I don't have the notes", or "I wasn't there in class" because notes are accessible all of the time.
2. Engagement
Our students were born in the 2000's, not in 1935. So why do we still teach like it is 1935? Education is the only institution that doesn't seem to adapt to the changing times. If education were a business, it would have filed for bankruptcy right after the Second World War. There are over 1 million apps designed specifically for education on the apple store. Every app caters to a specific demographic. Every app can help a student succeed where they have failed in the past. Every app can spark interest where a student had only found boredom.
3. Accessibility


The content is out there. When I was in grade seven our teacher introduced us to a new search engine that was still in beta called "google." We no longer need to give pages of content. We as educators need to teach students 21st century skills.  We don't have time to waste on hours and hours of note taking. Students have access to free videos, blogs, journals, and news articles from some of the most accomplished writers in the world. We live in the information era and we need to teach students how to use this abundance of information to make the appropriate changes in this world.  Students can view Ted Talks from all across the world from people who are much smarter then the teachers found in most classrooms.
 For students with high needs the mobile device is finally a way for them to voice their opinion. It gives them a way to show their abilities to the world. With all the accessibility options on the iPad, students with high needs have never had such a great learning tool. Their voice can now be heard where it was once lost. Many doors that were once closed are now open for these students.
4. Scaffolding
 With the "cloud" and individual devices, each student can be doing a different assignment. The beauty being, they don't even realize it. No more "I don't want students to know that I am doing different work" because no one will know. Every student can go at their own speed and get the amount of work that they need as they progress as a learner. They can keep all of their files and documents organized all on their iPad. The days of the fifty pound book bag stuffed with lose pages with no particular order are over. They can keep everything on their device at a convenient 1.6 pound weight.
 5. Creativity
A 12 year old student made 3.4 million dollars for his app designed for the iPod. A 14 year old girl's screenplay she submitted to an independent website is now being purchased by a major publishing house for millions of dollars.  Many youth who post their ideas, skills, artistic ability, and creativity on YouTube have been rewarded. Our students have the opportunity to show what they are capable of to the world with these resources. They can share their thoughts and ideas with millions.
In the past, to have the means to produce similar products would have cost thousands of dollars. Now at the push of a button for .99 cents they can have access. iMovie cost only 4.99$ and it has the ability to create, publish, and promote a film that has more technological ability then a 30 million dollar film made by Warner Brothers in the 90's. 
We shouldn't be closing students off from the world…we need to be opening them up to it. We need to give them the best education possible that enhances 21st century skills. If you look at the top jobs in the world, over 60% require a strong technological background. We would be doing a disservice to our students by cutting them off from these amazing opportunities. I have had students make a positive change in the world through a module I created last year. They stated they learned more in that module then in any other course. It would have never been possible without the help of technology.
 If you still don't believe in this, give this video a watch. 
A story about a creative boy, a good guy, and social media.
http://www.youtube.com/watch?v=faIFNkdq96U
Jan 17
Digital Citizenship in a 1-1 Classroom
Here is a prezi to help you create a more positive digital environment in your classroom. 
http://prezi.com/__u2saixohrj/digital-citizenship/?kw=view-__u2saixohrj&rc=ref-108991
Changing Tides: The Untimely Death of the Smart board
It is no surprise that technology has moved from the dimly lit basements of nerds to the forefront of popular culture. The old eggshell plastic encasing your old pentium 486 just doesn't seem to have the same "Wow" factor your new Samsung Galaxy SIII or IPhone 5 has. There are a lot of people to praise or to blame for this phenomenon. When did a piece of technology become a fashion statement? When did technology bridge the generation gap? Why is it okay to play games other then solitaire and minesweeper pass the age of 40? There is one simple answer: timing. 
All the advancements that have been made in recent history have all been culminating to one single event. Each time a processor decreased in size, each time a piece of software was reworked to be more intuitive, and every battery bolstering a new lifespan we saw something on the horizon. We saw all the pieces of the puzzle fitting perfectly together. There just needed to be a visionary to "carpe diem" the tech industry…and…did they ever. 
Unfortunately, SMART made believe to the realm of education that "THEY" were the company capitalizing at the right time. Millions of dollars were spent to wire classrooms across the country with SMART technology. Only to now be used as extremely expensive pull down screens for LCD projectors. 
The education sector bet money on the wrong horse. They missed the little guy in the background slowly building developers, software and gaining the attention of our youth. They missed all those little steps in technology that were building towards the iphone. The all in one sleek mobile device. The guy that would sell more copies of Angry Birds in three years then it would take Nintendo to sell copies of Mario in 30. 

Now, the school boards are not to blame. Tablets and mobile platforms were "vanilla" back in 2004-2010. The iPhone wasn't worth 500+ a share. They were limited, slow, unintuitive, and dependent on their big brother and big sister, "the PC". No one had the crystal ball to predict where exactly the mobile platform was going. Airplay, the cloud, and "apps" were non existent. 
The SMARTboard was a massive touch screen device that acted as a medium with our desktop computer. I remember the first time using a smart board I was blown away. The fact that I could manipulate the screen was an eye opening experience. Students were increasingly becoming engaged with content that was being communicated by the smart board. Looking back however, I do remember saying that it acted like a giant iPod. Unfortunately, I didn't realize how important that statement would become until one presentation.
SMART was doing a presentation at our school to defend its place in the classroom. They introduced a four way split screen that would engage four students simultaneously. They discussed new apps that were designed to enhance the smart tools experience. Finally, they talked about the price point. All of the advancements smart was discussing came at a cost. The middle of the road model was 3000$. Which is approximately 8 iPad mini's with 16gb of storage. The reason this comparison is significant is due to student engagement. A buzz word, but nonetheless important in our classrooms. An engaged student is a good student.So for 3000$ we can engage four students at a time with SMART, or for 3000$ we can engage eight with Apple. Why spend 3000$ on a massive screen that acts as a crippled iPad in the front of the class? Which only four students can use? When we can place a fully loaded iPad in the hands of eight students? Just doesn't make sense. Sorry SMART you missed the boat.
How does Apple replace the smartboard? 
So here's how this works in your classroom. You need an Appletv, a LCD projector and an Apple airplay enabled device. The Appletv will mirror the screen of your mobile device to the projector. This is significant because now the mobile device acts as the "smart board". Instead of it being fixed on the wall it can travel with you wherever you go in the classroom. You can be helping a student with a question at their desk while manipulating your screen on the wall in front of the classroom. It is an amazing classroom management tool to possess. Your presentation literally walks around with you in the classroom. 
Another benefit is that airplay allows all the students n your classroom with airplay enabled devices to also hook up wirelessly to your projector. Why would you want that? Simple. The time, problems, and frustrations that arise from hooking up each iPad during class presentations  can be devastating. Now, students can wireless sync their device to your projector and present their keynote immediately. 
I have been currently conducting all of my lessons with an iPad mini, Appletv, and a lcd projector for the past three months and I can honestly say the smart board has gained three inches of dust. This cost approximately half the price of a smart board and gives you so much more functionality. 
The apps: Opening the classroom to innovation and collaboration. 
The apps that you can use with this kind of setup is astounding. I am currently using Nearpod which is a free app on the appstore. It allows you to create and share digital presentations with all the mobiles devices in your classroom. It displays which students are currently online and their progress on each question. It gives instant feedback to your students on the online quizzes you create with Nearpod and emails you their results in a nice spreadsheet. The assessment value of this program is enough of a benefit to have an airplay enabled classroom.  
I am still currently working on a list of other apps  that work well with airplay and I hope to dig a little deeper in the coming weeks. Stay tuned. 
Mar 28
I couldn't of said it better myself, so I am re-posting. Great message on how Twitter is the ultimate medium for for ELA 
(via gjmueller)
The role of open source in ICT
It has come to my attention that I should be focusing my articles on technology that can be incorporated in the classroom. I have been digressing from the original purpose of this website. It is easy to get lost in the daily rant of teaching, and I should refrain from writing any response until 4pm.
Today I would like to highlight "The Google Cultural Institute" initiative. Google is constantly trying to display its value in the education world, and rightfully so. School boards have a vast amount of money to tap into, and schools also deal with Google's number one demographic…the teenager.
So, it is no surprise they are starting an online database that promotes culture throughout the globe. They are beginning to scan and document thousands of manuscripts, books, articles, primary and secondary documents and posting them to their website. This is an online resource that every Social Studies teacher on the planet should be aware of. The link is http://www.google.com/culturalinstitute/index.html or you can just google cultural institute.
Here you will find videos, articles, photos and an abundance of great credible resources. So I encourage you to check it out! They just did an entire life and times of Nelson Mandala.
The best part of the Google Institute is that it's free. Schools spend thousands on these kinds of resources, and Google is offering their services for an annual fee of zero dollars! Always keep an eye out for free resources. I assure you for every paid program that you are using there is an equivalent program for free.

Windows —> Ubuntu
Photoshop —>Picasa, Gimp
Microsoft Office —> Open Office
imovie —> Movie Maker Live
Garage Band —> Audacity, Osalt, etc…
Every Text Book —> ItunesU, ibooks author

And the list continues… 
Mar 27
Collaboration is a virtue…
As a young educator, I have never been so appalled by the reluctance of teachers to collaborate. I have seen grade 3 students huddled around a lunch table who displayed better qualities then teachers. At some point, we walk through the threshold of our classroom and never look back. It's a point of no return and our insecurities run high. 
Judgement day is always upon us and there is no escaping criticism. With cuts just around the corner, spare time at an all-time low, it is no wonder why collaboration is not a priority. 
It's not that I am already becoming cynical in my young age, I just believe we should practice what we preach. From what I have noticed, there is sure a lot of preaching….
In reality, collaboration should be a priority. I know we are busy, but it's a vicious cycle. If we collaborated more, it would actually save us time in the long run. We would have more confidence, we would build relationships, and it would enable a network of information and resources. Most importantly, teacher collaboration would reduce stress, conflicts and insecurities. If we were used to collaborating we would be far less protective of our teaching practices. It would almost be like……a team?
So let's stop bickering and complaining and actually do something constructive? Teachers are excellent at highlighting problems, but terrible at finding solutions. I hope you see the irony in that last sentence. Staffs need to come together and collaborate.
The idea of an open classroom school is terrifying for most teachers. Not because of the noise or the structure, but because people will actually see what they are doing. An open classroom should be a positive thing. It would be nice for teachers to be able to see what I was doing with my students and vice versa.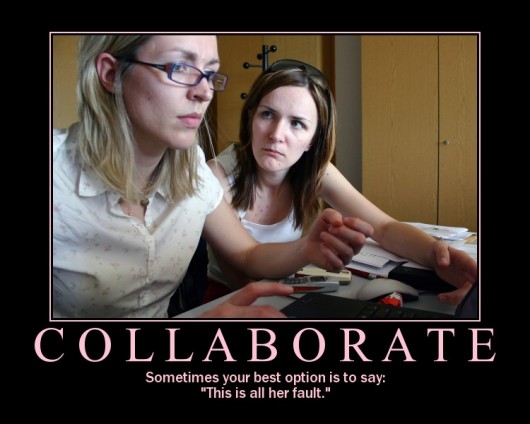 So, what I would like to see:

1. Time dedicated for teacher collaboration. There is literally no time in the day for this to occur.
2. Actual departments. For any business it is required for members from each department to have regular meetings. This rarely happens in schools, but once again due to time constraints.

3. Teachers to be more open. None of this backstabbing and refusal to face problems and conflicts. If you have an issue please discuss it! It's not hard, but once again…insecurities…
4. Online portal or Moodle for teachers to share ideas, thoughts and resources. A lot of great ideas that are not being shared. Once again, causes extra work.
5. Teachers to be more accepting. None of this negativity. It's nice to work with colleagues who actually enjoy their job. If you don't like teaching, go lobster fishing or something…tons of work for you to do.
Mar 21
Survey: Teachers work 53 hours per week on average -
A new report from Scholastic and the Bill & Melinda Gates Foundation, called Primary Sources: America's Teachers on the Teaching Profession, finally quantifies just how hard teachers work: 10 hours and 40 minutes a day on average. That's a 53-hour work week!

These numbers are indicative of teachers' dedication to the profession and their willingness to go above and beyond to meet students' needs. It never was, and certainly isn't now, a bell-to-bell job.

The 7.5 hours in the classroom are just the starting point. On average, teachers are at school an additional 90 minutes beyond the school day for mentoring, providing after-school help for students, attending staff meetings and collaborating with peers. Teachers then spend another 95 minutes at home grading, preparing classroom activities, and doing other job-related tasks. The workday is even longer for teachers who advise extracurricular clubs and coach sports —11 hours and 20 minutes, on average. As one Kentucky teacher surveyed put it, "Our work is never done. We take grading home, stay late, answer phone calls constantly, and lay awake thinking about how to change things to meet student needs."

» via Washington Post

I'm bringing up that average…working way more!
(via revolutionizeed)
Check out Discovery's Live Stream right now!
Mar 20
Outsourced?

I have realized that info should be quick, easy, and concise. With Twitter, YouTube, FB and other Web 2.0 items things need to be concise. So here we go.  

Why do school boards believe it's essential to have out of province experts perform professional development?

Every in-service I have gone to in the past 3 years has been conducted by someone from outside of my district. Just because you pay a substantial amount of money for someone to fly from out of province doesn't mean they are an expert. I can remember the board spending a substantial amount of money on a few speakers who were unprofessional, dated, and incompetent. They were completely out of context compared to the teachers we had in the board. I believe it is primarily because of exposure. It is apparent that teachers in Atlantic Canada are not going to match the recognition of teachers in Central and Western Canada. We cannot compete. Yet, I was in Calgary last week and teachers were baffled on the amount of technology resources we had as a board. Don't be fooled…we are not trailing behind in the education race.

So my plea this time is to get involved. I know my plea last time didn't work after seeing a teacher at an in service play a game immediately after receiving a brand new Macbook Pro. So, if you have a skill, an expertise, or anything you think is worth offering. Post it! Get it out there! People will respond. Let your board know! Let's not outsource the brilliant people we have working in our region. Let's recognize and acknowledge the great work we are doing. Let's share, collaborate, post, respond and comment on some of the great ideas and thoughts we have in the board.
Speaking of in-house, @tneknai (Ian Kent) will be posting a link here tomorrow. It will be a small video tutorial on how to use Lion OSX. Extremely useful, since 23 teachers in our board just received one. Just one example of how knowledge can be shared within a school board. If you have any comments let me know, share, retweet, like, or however you want to contribute. 
Mar 15
Oh…I am going there, phones in class!
Right off, I am making this clear. I am in no way on either side of this debate. You have probable cause to believe that I would be favouring the "pro" side of things, but I assure I am not. I have my opinions, and I think there are some interesting arguments to be made.


Now the one thing we can both agree on. Cell phones are going to be in your classroom. I don't care if you are Arnold from Kindergarten cop and you police it 24/7….cell phones are in your class. Students have always needed something to distract them from the classroom. Even when I was in grade 9 we used ti-83 graphing calculators to play battleship and South Park the game, and before that we used Gameboys and Gamegears, and before that we used Tamagotchi's. You can't escape the difficulties of student engagement as a teacher.
The only difference between the distracters I listed above and the use of cell phones…is well…everything.
Cell phones are swallowing the world from the inside. Well we can't even call them cell phones anymore. The iPhone 4s and the Android Galaxy SII are personal computers. They are the true definition of the word. They are a personal computer because they are mobile and they are in our possession all of the time and they contain our friends, bank accounts, schedule, and simply put….our life.
So how do we "control" these personal computers in our school and in our classrooms? Most students have become dependent on technology. They need to feel unique and connected with their friends, and mobile devices enable that very well. I remember IRC when I was in junior high and how I waited all day to go home and hop on to see who was on my schools channel. Then! If you really wanted to have a deep conversation with someone you could private message them. I wouldn't of imagined being able to bring IRC with me, and not just being able to text people, but go online, watch Youtube, Facebook, tweet, google, listen to music, watch Netflix, read Reddit, Pinterest, and the list goes on. The world is at our fingertips and we need to figure out what to do with it. Bottom line…


So let me break it down. The pros are the following:
School computer labs are worthless. Allowing students to bring in their own technology is the first start in cutting down technology cost.

Students can download just about any text book on their phone. So all those old Pearson science books from 2001…get rid of them.

Students can create videos, PowerPoints, research information, open up files, email you answers, look up online dictionaries and thesaurus's in a second. So all the "M. Surette? Do you have loose leaf? A pencil or a pen? No need my friend! 

 

Students can post and comment on current events on CBC, Chronicle Herald, Globe and Mail, and other newspaper which is a great social studies component.

Many students have one already.

They can be extremely engaging if used properly.

Students can buzz in their answers to certain questions on a powerpoint giving you instant formative assessment.

Apps are cheap and accessible, and there is a wide variety for all learners.
Now the Cons:
Students become seriously distracted.

Constant texting within class causes drama, bullying, privacy issues and you name it.

They are hard to upkeep and maintain (I hope your tech guy is keen)

Students often need a lot of guidance on how to use these things properly. They are not tech gurus like you would think. It took me almost 2 weeks to show them all the features iMovie had to offer. Prior to that…they had no sweat idea and hated the ipads.

Keeping all of the ipads locked so students can't install or delete apps is extremely time consuming.

Keeping all the apps synced and organized on one master computer is extremely time consuming.

Parents texting their kids in class is another issue.
Now I know my list may have more bullets on the pro side. However, the problems I highlighted in the con side are huge problems. I think we can all agree that mobile devices are extremely beneficial and we all want them in our classroom. So here is how I think they should be implemented.
1.    Students can bring their devices in class, but they must be in their book bag. If the device comes out during a lecture it's gone.

2.    The wireless in the school should be monitored by the staff and not some technician 100 km's away. Staffs need to have 100% control over what the students accessing.

3.    There needs to be a server in place where students can save and retrieve documents. There also needs to be several printers that are enabled to print from mobile devices.

4.    All school devices should be engraved and found in one classroom under the care of one teacher. All app purchases must go through this dedicated person. All iTune cards should be on one sole account put emplace by this teacher.

5.    Students will be notified when it is ok to use their personal devices.

6.    Social networking is important but should be heavily monitored by the teacher. Allowing Facebook has its benefits but it's a slippery slope.

7.    There should be at least a class set of devices in the school.

8.    A wish list should be emailed weekly to the person in charge of the tech. These devices are only as good as the people using them and they should be continuously up to date with the latest apps.  

9.    Do not allow parents to message their kids in class. Make them call the office. There are enough distractions…we don't need any more.

10. HAVE PLENTY OF PD ON HOW TO USE THEM!!!!! I SWEAR…… this is my plea as always! These are one of the greatest advancements in education….do not waste them…..they can do such great things and you are so lucky if you have these in your school. Please do the research and do some great stuff with your students! If I see them in your office collecting dust, or only used at recess for angry birds… I don't I know.
I will post a list later on with some great apps you can use in your classroom. I will give some lessons plans to incorporate them in the classroom.